Welcome and prepare yourself for a trip into the half broken, half genius, half monkey mind of Joe Leo! I know that's three halves, but three right turns make a left and three half minds make for a captivating show. Well, that and a roll of duct tape, but I digress. A lot. There, I did it again but that's because I'm so excited to have you here. Did you bring me a cookie? Never mind, it's time for you to learn about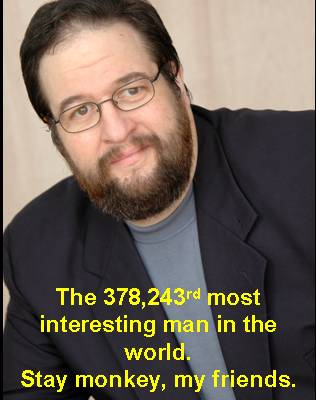 A mentalist who has read the minds of motorcycle clubs, rocket scientists and zookeepers
A Victorian medium who conducted a seance in a haunted asylum
A close-up magician who has enchanted patrons at a four star restaurant and has made more than a few brides expel beverages through their nostrils
A trade show magician who has, on several occasions now, drawn crowds so large that Security had to ask him to stop performing until the aisle cleared
A motivational speaker who has convinced university audiences to stay in school because the real world is a very scary place!
If so, you've come to the right place because you can find all of this on one web site and in one performer, Joe Leo! If you're looking for someone to take your event to the next level then you've come to the right place. Take a look around and give me a call. Let's start planning a mind blowing experience that will leave your guests and clients (stark) raving (mad)!

PUBLIC PERFORMANCES!
While most of Joe's performances are held at corporate, university and private events, he does occasionally break minds and warp reality at the odd public performance.
And it doesn't come much odder than this:
POPULAR PROGRAMS
Meetings of the Minds - Joe travels the country presenting mental miracles and motivation at corporate meetings and universities. Many of Joe's clients bring him back for repeat performances and are never disappointed. Do you have a message to convey at your corporate function? Need a message shared in an entertaining and provocative way? How aboujt making your trade show booth a more memorable experience for your visitors? Want to see a student union filled with tomorrow's leaders giggling like brain fried monkeys? Joe's your man!
Up Close and Personal - Want a unique entertainer for your club or restauraurant, business or promotional event or private function, large or small? Whether it's taking the stage or out on the floor amongst your guests, Joe's little miracle moments and group revelations are sure to make your special event even more memorable!
America's Most Haunted - It's time to acknowledge those little things you catch out of the corner of your eye. How much can we learn from the Spirit Realm? The truth can be learned in one of the many haunted locations throughout the country or in the comfort of your own parlor. After all, who knows who or what is really buried under your basement? We put the tools and secrets in your hands as you participate in your own investigation with your personal spirit guide or medium.
Restless Nights - We're already booking seance and mystery programs for next Summer and Fall. Our Civil War, Titanic, Witch Hunter and the ever popular Jack the Ripper seance programs are still available as well as our most popular introduction to Victorian Spiritualism. These interactive sessiomns allow guests to participate to whatever extent they are most comfortable and no two are ever the same. After all, one never knows who will come to sit with us. Contact us for details on how to add some spirit(s) to your lives today!
Proud member of the International Brotherhood of Magicians (IBM)

Stage Directors and Choreographers Society (SDC)

Dramatists Guild of America (DGA)

Future member of the Hair Club for Men
You can reach Joe at (646) 580-8440
Copyright 2011-2016 Gryphon Web Design Services